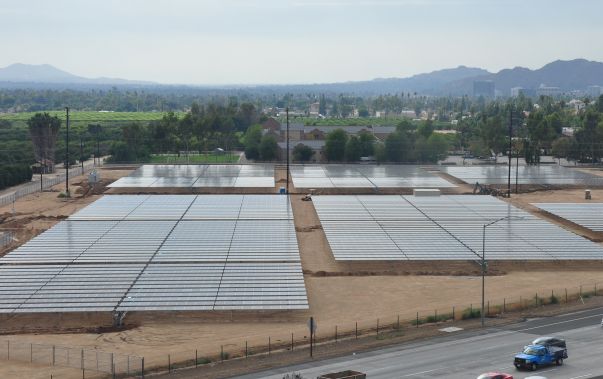 (www.ucrtoday.ucr.edu)
California leads the nation in solar energy, with more than 580,000 projects and 4,500 megawatts installed statewide. To achieve even higher penetration, researchers, the solar industry, and government leaders are turning their attention to new technologies that will improve the performance of solar energy projects and lower their costs.
The latest breakthroughs and how they can be leveraged in the Inland Empire will be discussed at UC Riverside's third annual solar conference, "Solar Energy Directions for Inland Southern California: Where is it Going?," which is set for 8 a.m. to 4 p.m. on Thursday, Feb. 23 at the Bourns Technology Center, 1200 Columbia Ave., Riverside, 92507. The conference is designed for government leaders, planners, council members, businesses, utilities, and the general public. The cost is $85 for non-students, $40 for non-UCR students, and $25 for UCR students. Those planning to attend should complete the online registration form.
Andrew McAllister, commissioner of the California Energy Commission, and V. John White, executive director of the Center for Energy Efficiency and Renewable Technologies, will be among the speakers. Panel sessions throughout the day will explore challenges and opportunities for incorporating solar energy, including how the marketplace works, local policies, and the latest breakthroughs. This year, the conference will have a panel dedicated to solar-related research being done at the University of California. A full agenda is available online.
UCR's Alfredo Martinez-Morales, managing director of the Southern California Research Initiative for Solar Energy (SC-RISE) and one of the conference organizers, said the event will highlight some of the most successful initiatives already in place, with a look to further increasing solar energy generation across Southern California.
"As the interest in solar energy continues to grow, this conference is a resource that can help government agencies, utility companies, end-users, and the technology community make the right decisions about how to apply solar power economically and efficiently," Martinez-Morales said.
This event is hosted by UCR's College of Engineering-Center for Environmental Research & Technology(CE-CERT), the UCR School of Public Policy's Center for Sustainable Suburban Development, andSouthern California Research Initiative for Solar Energy, and co-sponsored by SolarMax Technology, Inc., SunPower, Riverside Public Utilities, Western Riverside Council of Governments, City of Corona, and First Solar.