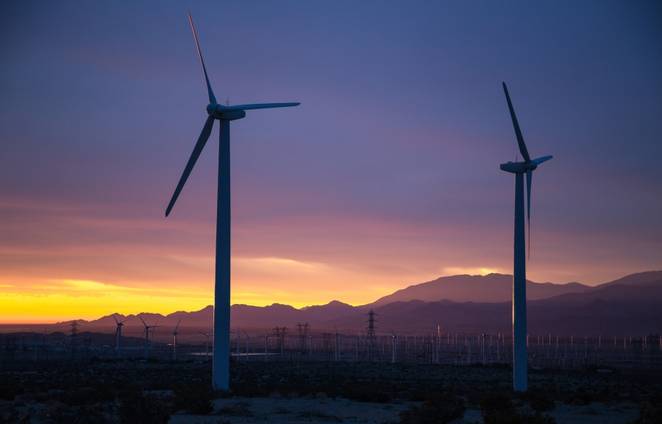 (www.treehugger.com)
One of America's fastest growing professions, wind turbine technician, attracts people with a unique set of skills, as demonstrated by climber and composer Jessica Kilroy.
According to the US Department of Labor, one of the fastest growing professions in the country is one that didn't even exist not that long ago, but employing people who can service and repair wind turbines is an essential part of our clean energy revolution. The Department's Occupational Outlook Handbook (OOH) states that "Employment of wind turbine service technicians, also known as windtechs, is projected to grow 108 percent from 2014 to 2024, much faster than the average for all occupations."
Granted, the total number of wind technician jobs isn't very high (4,400 in 2014), so the resulting job figures from that growth isn't nearly as huge as that 108% rate might suggest, but the profession is still one key component of a low-cost and low impact energy source.
What is it like to climb hundreds of feet into the air for your job, and do the work while dangling in a harness from a rope on one of those monster wind turbines? The following video from Great Big Story, as part of its Planet Earth series, shares the story of Jessica Kilroy, a climber, composer, conservationist, and wind technician:
"These days, giant wind turbines are supplying more and more of our clean energy. And when they break down, they need to be fixed fast. It's a job only a few people are equipped to handle. Those who are afraid of heights need not apply. Rock climber Jessica Kilroy, for one, loves the challenge of blade repair. And though she makes dangling at dizzying heights look easy, her path to becoming a wind turbine technician has been anything but that." – Great Big Story
Although wind turbine technicians, with their daily high-flying adventures, might have one of the most exciting jobs in clean energy, the booming wind energy sector has created quite a few employment opportunities, with more than 100,000 wind energy jobs currently in the US. That's more than the number of jobs in nuclear, coal, natural gas or hydroelectric power plants, and the wind industry is expected to employ an estimated 380,000 people in the US by 2030.
According to the American Wind Energy Association, the industry is "bringing billions in private investment, and tens of thousands of well-paying jobs, to rural and Rust Belt communities across the United States," which enhances those communities through boosting their economies and providing funds for schools, roads, and other necessities. And it's not just the treehuggers and renewable energy wonks who support wind energy, as even the US Department of Defense sees wind energy as an important element of increasing our energy security and cutting operational costs at its own installations. Wind and solar are seen by analysts as being currently the cheapest available electricity sources, even without subsidies, and could very well prove to be the backbone of the clean electricity grid of the future.