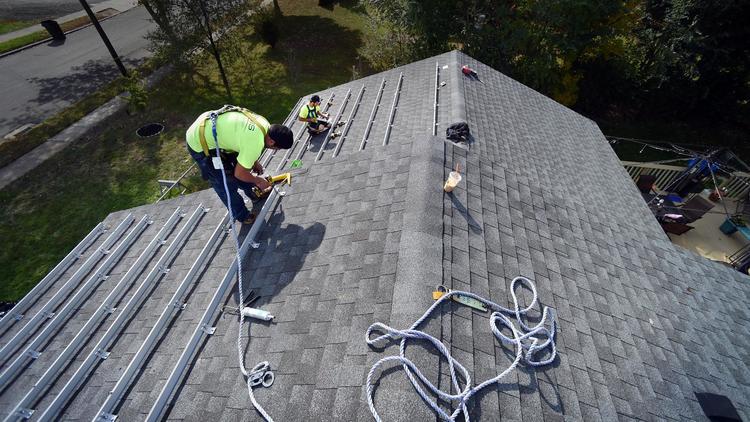 (www.courant.com)
When Chris Lenda began putting solar panels on people's roofs in the early 1990s to make electricity, he had the Connecticut market — such as it was — all to himself. Photovoltaic systems were extremely expensive and there were no state or federal incentives. Lenda is an electrical contractor who, decades ago, did the occasional solar job for well-heeled homeowners.
Times sure have changed. Today, his Branford firm, Aegis Solar Energy, employs 15 people and does about 200 solar jobs a year. He has lots of competition, too. Among the 94 contractors eligible to offer financial incentives through the Connecticut Green Bank is SolarCity, whose CEO is Elon Musk. It recently merged with Tesla, the billionaire's electric car company, and operates in 20 states.
The Green Bank's list of statewide solar projects dating to March 2012 includes 6,876 installed by SolarCity, which employs more than 300 people here and some 14,000 nationwide, according to a company spokesperson. It entered the Connecticut market in 2012 and has opened two offices, as well as a warehouse in Rocky Hill and a training facility in Hartford.
Chris Lenda estimated that SolarCity has captured more than half of the state's residential solar market — which is decidedly bullish of late. More than 50 percent of the 22,742 Connecticut homes sporting solar panels — a total obtained from Eversource and United Illuminating — have come online in the past two years.
"It started really ramping up after 2013," said David Ferrante, a spokesman for Eversource. "There were about 3,000 [solar homes] added in 2014 to our customer base, and 6,000 or so in 2015 and another 6,000 in 2016. We expect that same level to continue for the next few years." What accounts for this solar power surge is a growing market nationwide: more companies installing more systems have brought prices down—while Connecticut electric rates are among the highest in the country, making solar even more attractive here.
"The cost of solar systems has come down 70 percent in the past decade," Lenda said. "Regardless if your monthly electric bill is $100 or $300, the economics of doing solar here are going to be exactly the same. What we are typically seeing is anywhere from a six- to nine-year payback on your investment."
After that, it's all gravy, since solar systems have a 30- to 40-year lifespan. A typical 5.7 KW photovoltaic system installed by Aegis on a three-bedroom, solar-suitable home would cost $21,790, with the homeowner paying only $13,487 after state and federal incentives are factored in ($2,523 and $5,780 respectively). The proposal estimates a nine-year payback and cumulative savings over 25 years of $50,520 (based on an anticipated 3.8 percent annual utility rate inflation).
This plan was predicated on increased household energy use to accommodate air conditioning and to charge an electric car that would travel 10,000 miles a year (the payback didn't factor in savings on gasoline). A smaller proposal simply to meet current electrical usage (3,850 kWh a year) would cost $8,747 after incentives. Studies also have documented that houses with solar panels are worth more and sell faster than comparable properties.
Homeowners also can lease a system or enter into what's known as a "power purchase agreement" with a third party (often the installer) and still save on their monthly electric bill (when homeowners don't own the systems, they don't benefit from state and federal incentives). In recent years, nearly three-quarters of Connecticut residents going solar have opted for these "no-money-up-front" approaches, according to statistics compiled by the Green Bank. A lease has a fixed monthly payment, while under a power purchase agreement the homeowner pays the system owner based on monthly energy usage.
Because of the convergence of factors — declining costs, installation options and ongoing incentives — the next few years are prime for Connecticut residents who want to go solar. The state subsidy has been dropping in recent years and will decline further, but the larger 30 percent federal tax credit is available through 2019. It goes down thereafter and disappears altogether for residential systems after 2021.
Residential solar users still pay a monthly fee, currently $19.25, to the power company, which tracks generation and usage through "net metering." System owners who produce more electricity than they use receive a credit on their utility bill, and after a year can request that the power company reimburse them for any excess at the going wholesale rate.
Solar panels clearly are hot in Connecticut and nationwide (the industry now employs more than twice as many people as coal mining), and its potential is vast, according to David Desiderato, who is the Share the Sun Campaign Manager for the Connecticut Fund for the Environment. "About a quarter to a third of the electricity we use in Connecticut could come from small rooftop solar systems alone," he said. "If you include the potential from large commercial roofs and government and utility-scale projects, we could generate as much as half of our power from the sun."
Desiderato said that about 200,000 of the state's roughly 800,000 residential housing units are candidates for solar power: i.e. they are occupant-owned and are suitable for solar. So far, roughly one in ten of these eligible houses have panels. He added that all of the photovoltaic systems in the state combined—residential, commercial, and utility-scale — currently generate only about one percent of Connecticut's electrical usage.
When asked what he would say to a homeowner who was considering installing solar panels, but hadn't quite decided, Desiderato said, "Do it, absolutely do it. Solar is great for the environment. Your electric bill goes down. The value of your house goes up. Your property taxes don't go up because there is an exemption on that. And you're creating jobs in Connecticut."