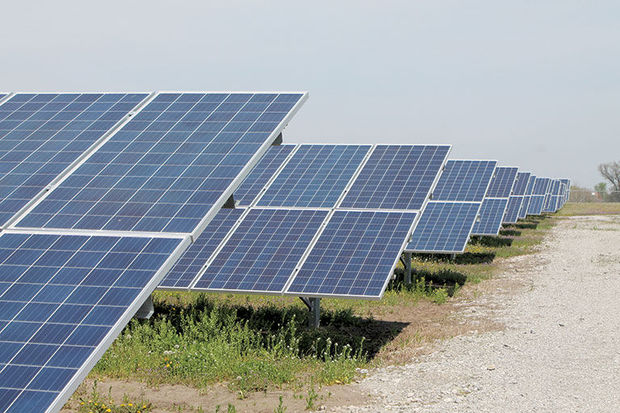 (www.missourifarmertoday.com)
When it comes to solar energy use on the farm, Rodney Pitford says it's important to remember every situation is different, and farmers should tailor their solar system to their needs.
"We do complete custom design stuff," says Pitford, the CEO of OTG Solar in Macon, Mo. "We don't do any cookie-cutter stuff."
Pitford says many farmers in his northeast Missouri region are considering solar options in their efforts to control energy costs.
"The hog farms and the dairies and chicken facilities, it really does help out a lot," he says.
The solar systems provide the most return on investment in buildings that "have a constant usage throughout the year," Pitford says. He doesn't recommend adding them to a silo or to a place they don't use year round.
There are incentives such as the 30 percent solar Investment Tax Credit (ITC), although Pitford says farmers have to show a tax liability to qualify. He says there is also a grant available through the USDA that would pay for 25 percent of the cost of solar installation, for which many farmers qualify.
"There's a huge growth in interest," he says.
Pitford says a rebate offered by Ameren and Kansas City Power and Light in 2013 led to a lot of interest in solar energy systems in Missouri.
The solar installations slowed down in 2014, but then gradually built back up in 2015 and 2016, and Pitford says he is seeing a lot of interest this year, especially among farmers.
"Almost 75 percent of our quotes going out the door right now are for farmers who have hog barns or chicken facilities," he says.
With increases in utility prices, Pitford says producers appreciate the opportunity to lock in energy costs for 25 years, which is the length of the warranty he offers.
Solar systems have heavy production in the summer, taking care of energy needs. Production is lower in the winter, but it still offsets a chunk of the electric bills, Pitford says.
He adds that Missouri is fairly middle-of-the-road when it comes to solar policy.
"It could be better, but it's not the worst I've seen," he says.
In Missouri, anybody can tie their solar system into the power grid, as long as it is less than a 100-kilowatt system.
"A lot of farmers are using more than 100 kilowatts," Pitford says. "That's how Missouri law could be friendlier, if they lift that cap. Then we could meet people's needs a lot better."
Dan Whitten, the vice president of communications for the Solar Energy Industries of America (SEIA), says Missouri has capacity of a little over 150 megawatts of solar power right now.
"The state is not one of the biggest states with regard to (solar) development, but there's a lot of potential," he says.
Whitten says it's important to expand or modernize existing infrastructure to support solar growth. He says a lot of solar growth could come to Missouri.
"Missouri does have an awful lot of potential," he says. "Farmland represents a lot of opportunity for solar energy."
Zach Wyatt, executive director for Missouri SEIA, says the cost of solar panels has dropped in the last few years.
"When batteries go down (in cost), you're going to see a lot more farm use," he says.
Wyatt says it is against Missouri law for property tax assessments to go up due to a solar energy installation. He expects to see farmers and rural residents continue to look at solar as an option.
"I think as we go forward you are going to see more solar, especially in rural areas," he says.