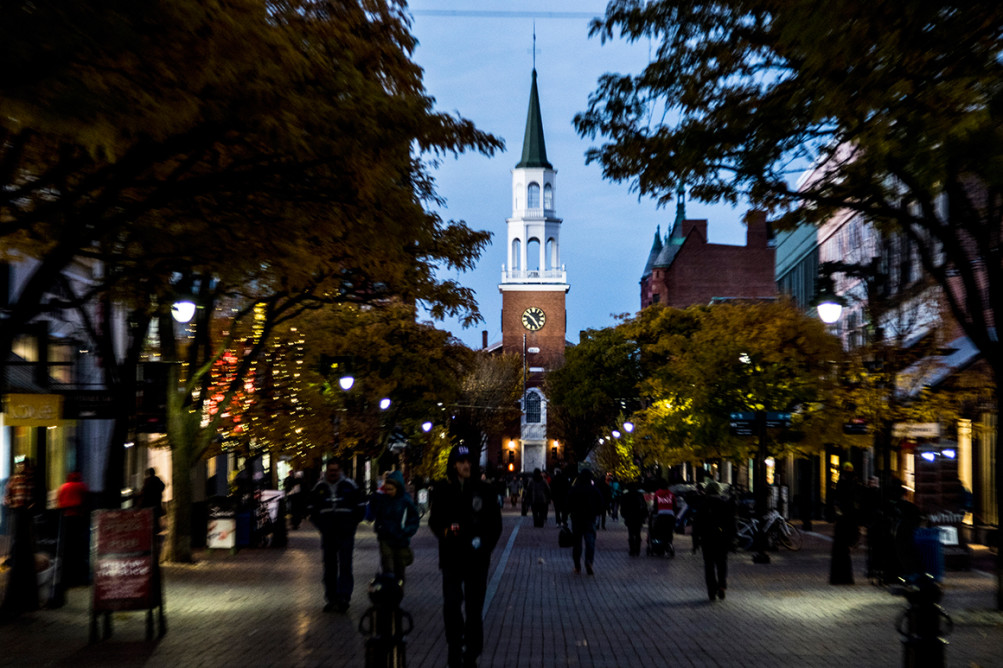 (www.politico.com)
To understand what makes Burlington unlike almost any other city in America when it comes to the power it consumes, it helps to look inside the train that rolls into town every day. The 24 freight cars that pull up to the city's power plant aren't packed with Appalachian coal or Canadian fuel oil but wood. Each day 1,800 tons of pine and timber slash, sustainably harvested within a 60-mile radius and ground into wood chips, is fed into the roaring furnaces of the McNeil Generating Station, pumping out nearly half of the city's electricity needs.
Much of the rest of what Burlington's 42,000 citizens need to keep the lights on comes from a combination of hydroelectric power drawn from a plant it built a half mile up the Winooski River, four wind turbines on nearby Georgia Mountain and a massive array of solar panels at the airport. Together these sources helped secure Burlington the distinction of being the country's first city that draws 100 percent of its power from renewable sources. The net energy costs are cheap enough that the city has not had to raise electric rates for its customers in eight years. And Burlington is not done in its quest for energy conservation. Add in the city's plan for an expansive bike path, a growing network of electric vehicle charging stations and an ambitious plan to pipe the McNeil station's waste heat to warm downtown buildings and City Hall's goal to be a net zero consumer of energy within 10 years starts looking achievable.
The environmental sustainability revolution has spread to other sectors of civic life. Outside the gates, farmers, community gardeners and food-minded social workers tend fields and plots spread out over 300 acres of once-neglected floodplain just two miles from the city's center. Together the agricultural enterprises in the valley—working land controlled by a non-profit that partners with the city—grow $1.3 million in food each year, much of it sold at a massive, member-owned cooperative supermarket, its own origins traced back to City Hall.
How did this former logging port on the shore of Lake Champlain transform itself over the past 40 years from a torpid manufacturing town in the far corner of a backwater state to a global trendsetter in sustainable development and green power? The answer carries particular resonance at a time when the United States' commitment to environmental issues and addressing climate change is suddenly less certain than at any time in a decade. Cities like Burlington, the largest city in a state whose tourism and agriculture dependent economy is vulnerable to climate change, have had to craft their own solutions to address global warming and to insulate themselves from the vagaries of global energy markets. In Burlington, however, these solutions were not spearheaded by civic or corporate leaders, as is now often the case when cities tackle urban issues. Instead, Burlington is achieving its energy independence almost entirely through initiatives developed by its municipal government—a government that has been decidedly left-leaning for decades. In fact, one of the people most responsible for setting in motion the chain of policies and programs that now distinguish Burlington was a ground-breaking social democratic mayor with unruly hair, a thick Brooklyn accent and a message that would many years later carry him deep into the 2016 presidential campaign.
"There's nothing magical about Burlington," says Taylor Ricketts of the University of Vermont's Gund Institute for Ecological Economics. "We don't have a gift from nature of ample sun or mighty winds or powerful rivers, so if we can do it, so can others."