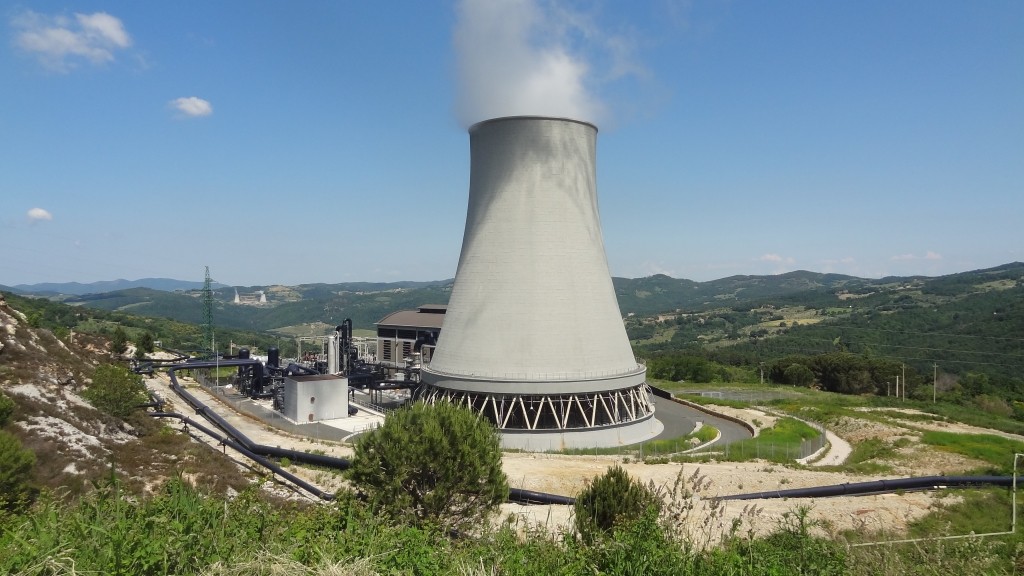 (www.thinkgeoenegy.com)
As reported by Enel Green Power, geothermal energy production in Tuscany, Italy has reached yet another record in the past year of 2016.
With 34 geothermal power plants in operation in the region in 2016, production increased by 51 GWh to 5,871 GWh of produced electricity by geothermal power plants in the region.
This new record was made possible by optimizing technological innovation and excellence of the plants whose plant efficiency was greater than 98% and availability of mine shafts operated by Enel Green Power with a view to a careful geothermal cultivation environment and the balance of the geothermal loop.
In the more than 100 years of geothermal power production in the region, the level production has never been as high and highlights the sustainability of the resources. When managed well through the reinjection of water output and technological innovation, there has been growth in terms of availability and performance by keeping a balance with the environment and proving that geothermal energy is completely renewable.
At Larderello in Tuscany, Enel Green Power operates the oldest geothermal complex in the world and has the know-how of geothermal energy that exports all over the planet.
Of 34 geothermal power plants (for a total of 37 production units) of Enel Green Power, 16 are in the province of Pisa; 9 are in Siena (total of 10 units), as well as 9 plants in the province of Grosseto (total of 11 units). At the provincial level, the province of Pisa stands at a geothermal production of 2,976 GWh, the highest figure of the three Tuscan provinces.
The territory of Siena has had a production of 1,492 GWh and Grosseto of 1,403 GWh . The nearly 6 billion KWh produced in Tuscany are the average annual consumption of more than two million households and provide useful heat to warm over 10 thousand residential customers as well as companies of geothermal areas , about 30 Ha hectares of greenhouses, dairies and a major agricultural sector, gastronomic and tourism.
In terms of organization, power plants are grouped in so-called "Geothermal Areas" (each of which includes plants from different provinces) of Larderello, Radicondoli, Lake Boracifero and Piancastagnaio / Amiata: the areas of Larderello and Lake showed a production respectively 1,822 and 1,851 GWh, the area of Radicondoli of 1,217 GWh and the plants of Piancastagnaio, Santa Fiora and Ardicosso combined 981 GWh.
"Geothermal has showing record production figures year after year – said Massimo Montemaggi , Head of Geothermal at Enel Green Power – confirming that it is an ancient resource but able to constantly renew itself and contributing to the development of renewable energy in Tuscany and Italy. Our business, highlights the excellence for the technologies used, the environment and the frontiers of innovation on energy, electricity and heat. The record this year confirms that we are on track, thanks to our know-how and cooperation with regional and local institutions, entrepreneurs and trade associations with the aim of continuing to be an international leader, increase further local development and consolidate the Tuscan geothermal district in Italy and in the world ".