Posted on March 23rd, 2016 in hydro by Spencer R.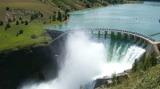 (HydroWorld.com)
Italy is the 4th largest producer of electricity from hydropower in Europe, and it plays a large role in the power generation mix in the country, alongside the country's Alpine neighbors – Austria and Switzerland. Their mountainous regions make the perfect spot for hydropower plants to be situated. Italy's ambition is to generate 42,000 GWh of hydropower from 17.8 GW of installed capacity by 2020 (Source: International Hydropower Association).
This forms the perfect backdrop to the special Hydropower Day featuring in this year's POWER-GEN Europe & Renewable Energy World Europe, which will take place in Milan, Italy, on June 21-23.
The conference is taking place under the patronage of the Italian Ministry of Economic Development, with the dedicated focus on hydropower being proudly supported by HydroWorld.com. Building on the legacy of PennWell's landmark event HydroVision International, held in the USA annually, hydropower will be a running theme at the POWER-GEN Europe & Renewable Energy World Europe multi-track conference. Particular emphasis will be placed on storage, including pumped storage hydroelectricity.