Posted on March 10th, 2016 in wind by Spencer R.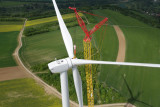 (nawindpower)
MAKE has released an update to its Q1/2016 Global Wind Power Market Outlook, presenting an analysis of global and regional wind power installation forecasts through 2025.
The reported 32.9 GW of grid-connected capacity and 30.5 GW of installed capacity in China in 2015 greatly exceeded industry expectations. Final data for China is pending completion of MAKE's quality assurance, but the rush in China at the end of 2015 to maximize expiring feed-in-tariff (FIT) levels is symptomatic – albeit an extreme case – of a broader dynamic facing several of the industry's mature markets.
Near-term growth in wind energy is largely driven by a winding down of policy incentives in countries such as Germany, the U.S. and China. A 2018 policy-induced demand peak represents an inflection point, as markets adjust to a lower level of incentives, a transition to a new support mechanism or even a void in support.